A Home Away From Home
Alkali Lake Cabin
The Alkali Lake Cabin was constructed in the spring of 2019.
This brand new cabin is your 'Home Away From Home', featuring a comfortable queen bed with a cozy duvet and flannel sheets.  The kitchen has everything you need to cook a meal, including a propane 4 burner stove with an oven. The cabin has running hot and cold water(during the warmer months) , as well as electricity. In the colder winter months we have to shut the water off; water and water containers are provided.  There is a table in the cabin which is perfect for dining or even doing your paperwork if you are here for business.  A brand new outhouse and outdoor shower house are located right behind the cabin.   Sit on the porch and take in the view of the Stingy Mountains, and enjoy the peacefulness our location has to offer. There are hiking and walking trails close by for you to check out. 
There is much to see in the Telegraph Creek and Glenora area!
Running hot and cold water (Seasonal)
Single Occupancy
$110.00 + PST and GST
Couple/Double Occupancy
$125.00 + PST and GST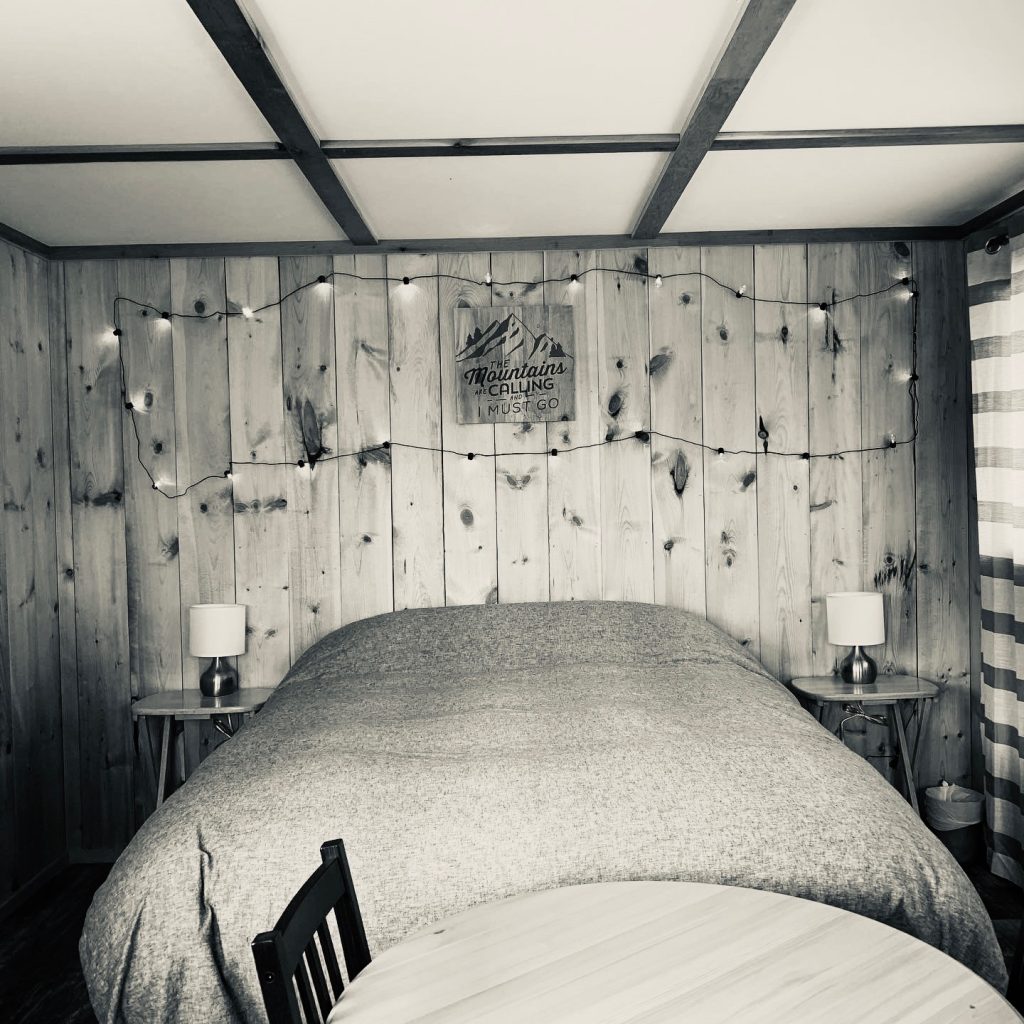 Amenities of the Cabin
Queen Bed & Duvet
WiFi (great for messages and emails)
Kitchen with Propane Stove
Running hot and Cold water(May-October)
Electricity (Solar Powered)
Outhouse
Outdoor Shower House(May-October)
Homemade Continental Breakfast Included
5 minutes from Telegraph Creek
During the colder months(November-April), water + containers are provided!
Very clean, brand new appliances, beds, and lots of linens & towels
" From the moment we arrived, hosts Neoma & Russel were incredible. The property is serene, tranquil & breathtaking. The accommodations are beautifully appointed with the country rustic feel but everything is brand new! Very clean, brand new appliances, beds, and lots of linens & towels. We had our morning coffee on the deck with an incredible view of the mountains. Easy to find once in Telegraph & check in & out with great convenience. Thank you Neoma & Russ for a fantastic stay! We will definitely be back 🙂 "
bluepines16 , Atlin, B.C.
Tripadvisor, 2017
Amazing
 Amazing !! The views, the meals, the hostess and host. Loved it all ! The trip in was a little nerve wracking but it is so well worth it. We will be back. Anyone looking for an adventure, this is the place to go. 
Pord Family, Alberta
Trip Advisor, 2018
Please Enjoy the Video Tour of Our Alkali Lake Cabin
Enjoy the view while you relax in comfort
CLICK HERE TO EXPERIENCE THE VISUAL TOUR