Conveniently located only 5 minutes past Telegraph Creek on the Glenora Road. Hyland Creek Cabins offers cabins that include a homemade breakfast at a truly unique location in Northern British Columbia.
Our 100-acre homestead sits below Blueberry Mountain. You will get an incredible view of the Stingy Mountains from anywhere on the property.  Guests enjoy sitting on the porch of their cabin while enjoying their morning coffee or tea, taking in the peacefulness our unique location offers.
Guests can enjoy watching the Northern Lights, snowshoeing (snowshoes are provided), and even wildlife viewing right on the property.  Looking for more? Explore downtown Telegraph creek and check out the Stikine Museum. Take a drive to Glenora and walk alongside the Stikine River. Here for work? No problem. Most of our guests are here for business and rave about how peaceful and relaxing it is after a long day in the field.
We are 100% off-the-grid but with full electricity. Our electricity comes from our 20 solar panels, or a generator to charge the batteries during the winter months when there is less sun. Guests can charge their devices in either cabin. We get so many comments from guests telling us that they had no idea we were off grid. Learn more about our off grid set up here. 
We are a 2-hour drive off Highway 37 (Dease Lake) in Northern British Columbia. Located only a 5-minute drive past Telegraph Creek on the Glenora Road, Hyland Creek Bed and Breakfast is the perfect place to stay for business trips, or that get-away you've been looking for!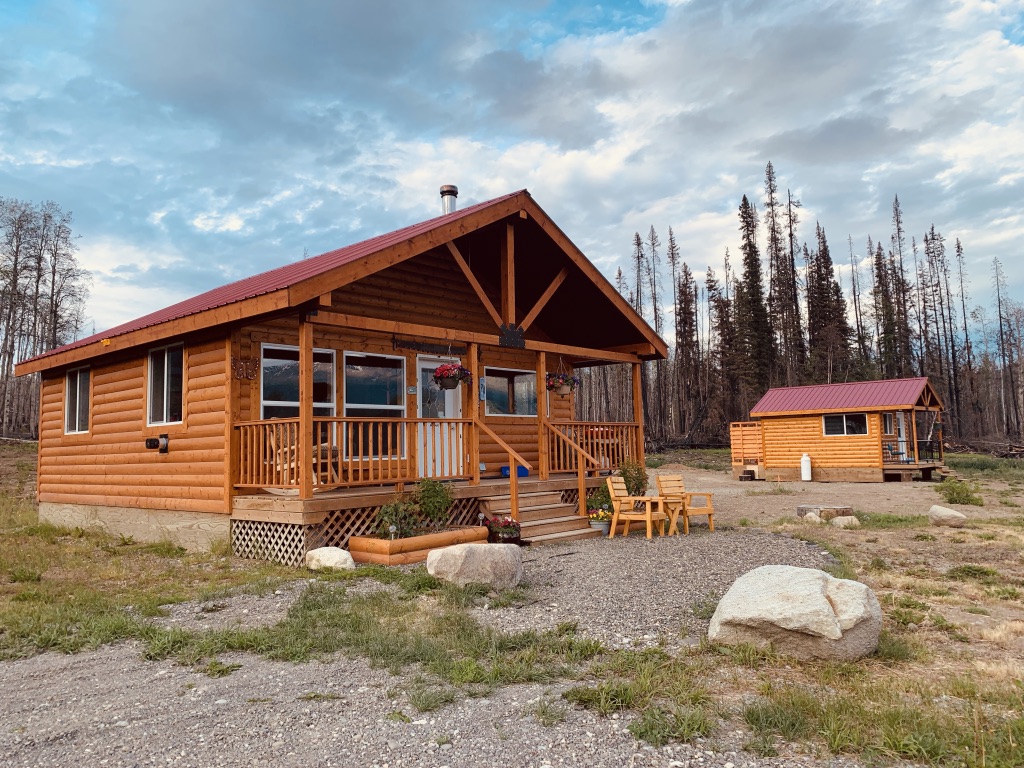 Great Location in Telegraph Creek
Located in the pristine Telegraph Creek, Northern British Columbia. We are nestled below Blueberry mountain on a 100 acre homestead only a 5 minute drive from the Telegraph Creek town centre and located on the Glenora Road. We cater to the solo traveller, small and large work crews, government employees and the general tourist looking for a wilderness escape.
Free WiFi
Enjoy free WiFi in the cabin(s) and in our main residence. Great for checking messages, emails, basic web browsing and social media. 
Bird Watching
Are you an avid bird watcher? Since the Forest Fire in 2018, the wild birds have returned and many species are able to be seen on our property and in the valley. 
Hiking & Walking Trails
Hiking and Walking trails are located on the property, perfect for picture taking, bird watching, viewing plants & wildflowers, and of course, taking in that fresh mountain air! Guests always enjoy the hiking trail up to our lookout point, which shows an amazing view of the valley. 
Parking & Turn around space
There is plenty of parking for any size of truck & trailer on our 98 acre property—and plenty of room to turn around. (we have had full size semi's turn around in our yard with no problems!)
Museum
Check out the Stikine Museum while you are in Telegraph Creek. You will not be disappointed; countless hours were put into the set up of the museum, there is so much history under one roof! 
Shuttle Service
We offer free shuttle service to our guests traveling to Telegraph Creek by boat or aircraft. We also offer a safe place to park your vehicle while you paddle your way to Alaska down the Stikine River.
Methods of Payment
We accept Visa, Mastercard, American Express, Interac cards, Apple Pay, Google Pay, Email Money Transfer, and cash.
Pet Friendly
Pets are always welcome here, and stay for free. Please read more about bringing your pet here. 
Charging your Device
Yes, you are able to charge your devices in either cabin! 
Off- Grid Experience
When people hear "off-grid" they think oil lamps, flashlights and hauling water(although that is still a lovely set up and experience). But that's not the case here; with electricity, running hot and cold water, most guests do not even realize we are off the grid. We do have some restrictions on our power usage, but how cool is it that our power comes from the sun!?  
Cabin Comforts
With finishing touches, like cozy duvets, flannel sheets and wood heat, you won't want to get out of bed!  The cabins are fully stocked with pretty much everything you need to make you feel right at home. Missing something? Just ask.